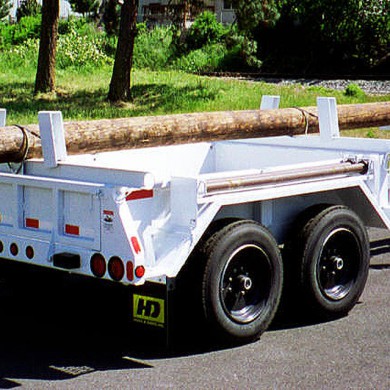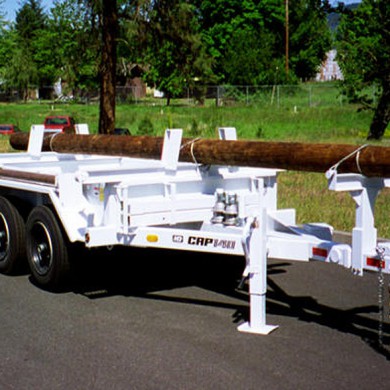 CRP140 MULTIPURPOSE DOLLY
In the tradition of its multi-purpose trailers, Hogg & Davis, Inc. brings you the CRP140. Available in single or multiple reel configurations, the CRP140 offers complete job support hauling capabilities. Optional pole bolsters add to its versatility to make it the only trailer you'll need. Its 14,000 lb. tandem axle design provides stable, smooth hauling. Its rugged 11 ga. formed steel sides provide solid protection against the banging and abuse cargo bodies endure. This one's built for the long haul.
See Full Details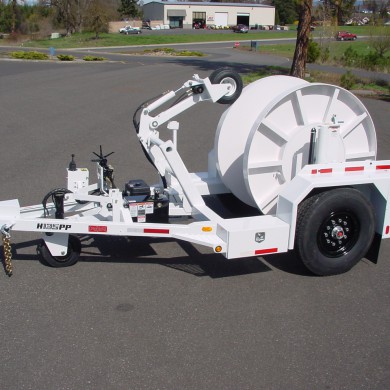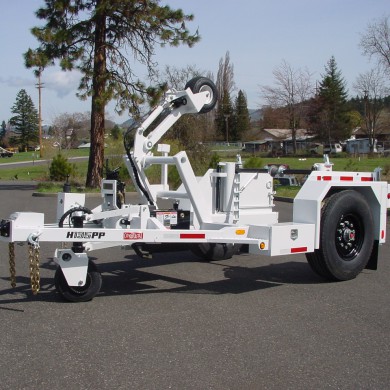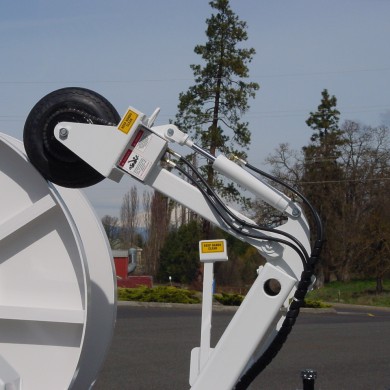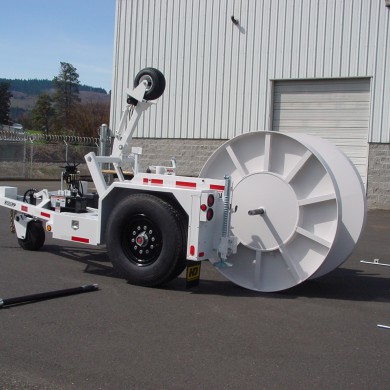 H135PP POWER REEL DOLLY
The H135PP is the "foundation" of the Hydra 985. With its self-contained power pack this unit features hydraulic loading and self-maneuverability in the yard and at the job-site. Its rugged, open yoke, rigid frame gives it the strength required for tough use, even in off-road applications.
The H135PP is a modular approach to line construction equipment. A Power Unit can be added to the H135PP to create full cable pulling capabilities. All power unit mounting rails and cylinder anchors are incorporated into the H135PP. So, as your requirements grow, the H135PP can grow with them. This system reduces equipment obsolescence and future capital expenditures. Above is an example of one conversion possibility – the H135PP can become the Hydra 985. The Hydra 985 is our diesel powered 24,000 lb. line pull cable reel unit.
See Full Details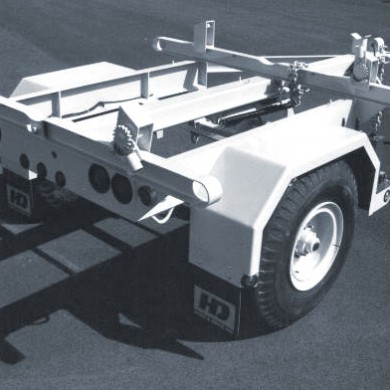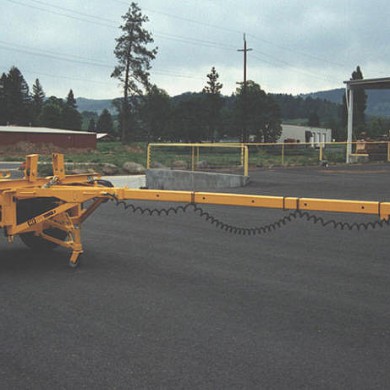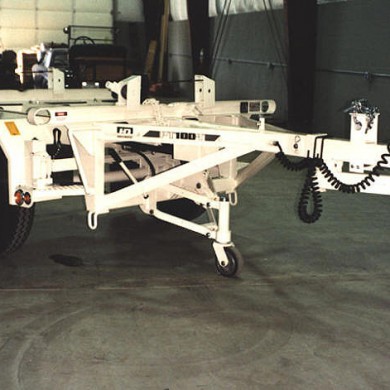 PT150 POLE TRAILER
The PT150 Series pole trailer is the high capacity version of our PT100 series. It has dual wheels, single axle 16,000 lb. GAWR and a capacity of up to 14,000 lbs. It has three models: (S) features a short drawbar, (L) a long rigid drawbar, and (T) a telescoping drawbar.
Setting the PT150 apart from the competition is its unique hydraulically actuated idler wheel. The double A-Frame mounted assembly provides 360-degree swivel and ease of motion with its bearing mounted 8-inch caster. The hydraulic pump is easily accessible at the curb-side of the unit. Dual coil springs retract the wheel for towing.
See Full Details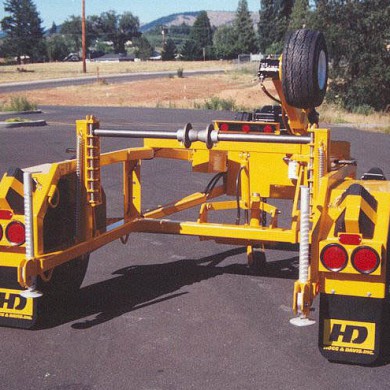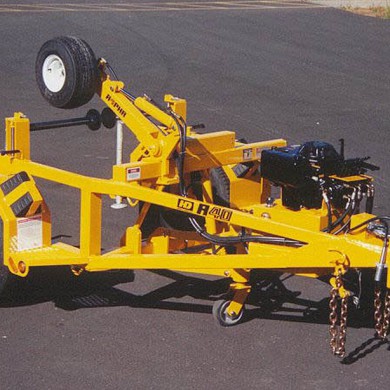 R40 REEL DOLLY
5000 lb. Payload, 72″ x 50″ REELS Hydraulic Loading, Single reel capacity, single axle, tubular steel construction.
Hydraulic Loading, Multiple pocket mandrel lifting racks can load reels up to 72″ diameter and 50″ wide. The system is designed to carry reels with uniform ground clearance and to carry reels at the lowest possible center of gravity for better towing.
Racks are stabilized and locked mechanically to transfer load from the hydraulics to the mainframe.
See Full Details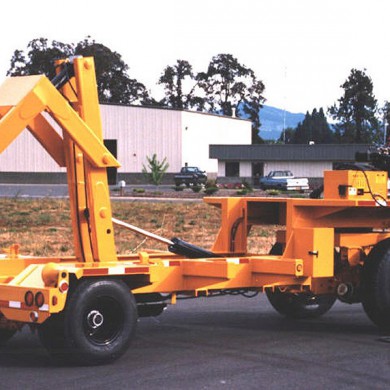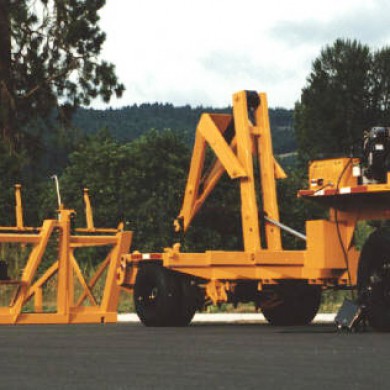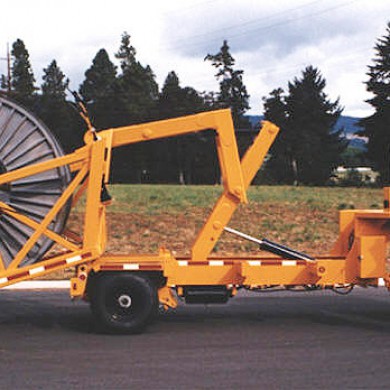 STELLAR HOG
The Stellar Hog Transport System features a patent-pending concept of a variety of modular components being transported by a single trailer system to provide highly versatile daily operations and rapid response in emergency situations.
The most commonly used module is a specialized reel pallet. This pallet will carry reels 96 to 130-inch diameter; up to 84 inches wide, weighing 20,000 pounds.
Other modules currently under design to customer specs are portable generation, portable substations, field offices, switching centers, machinery transports, refuse bins, etc.
See Full Details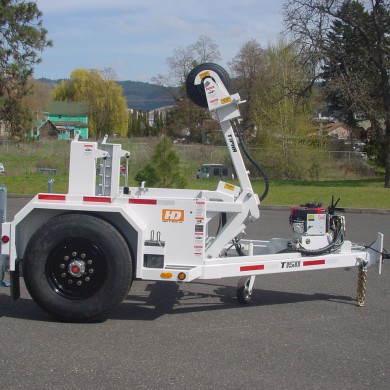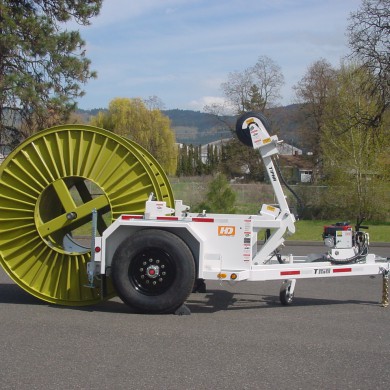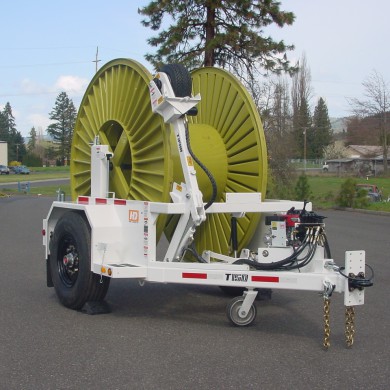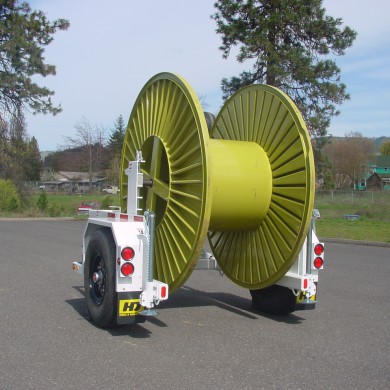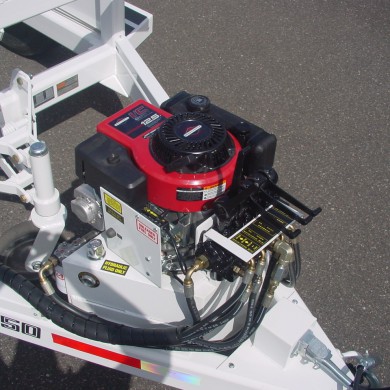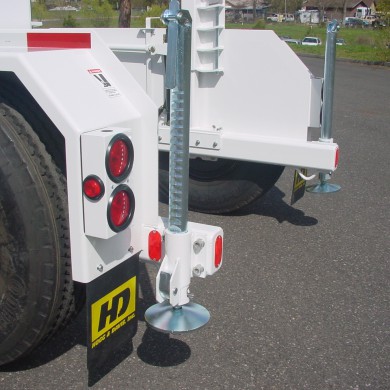 T150 CABLE REEL DOLLY
The Hogg and Davis, Inc. Model T150 Cable Reel Dolly is an open yoke unit designed for low center of gravity reel hauling. It offers operating ease and simple maintenance. The 4" x 6", 1/2" wall tubular frame, super-structure and heavy duty fenders and panels are integrated into a structurally strong and rigid unit designed for years of rugged service. it is backed by the years of experience, knowledge and quality which Hogg and Davis, Inc. represents.
With a 4-cycle, single cylinder, overhead valve, air-cooled, gasoline, pressure lubricated, with oil filter, vertical shaft, aluminum head and block engine. Mounted on a 15-gallon hydraulic reservoir with submerged hydraulic pump. Electric start with rope crank for back up.
Other modules currently under design to customer specs are portable generation, portable substations, field offices, switching centers, machinery transports, refuse bins, etc.
See Full Details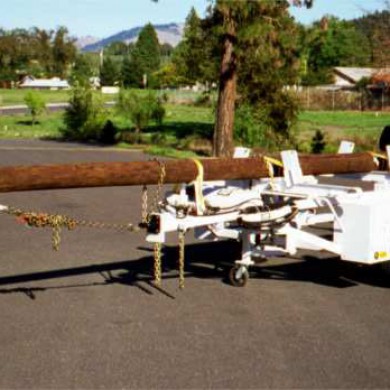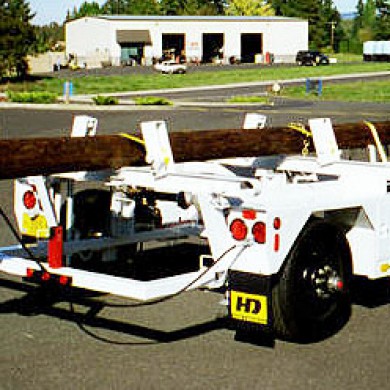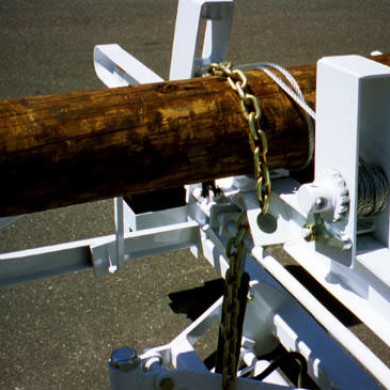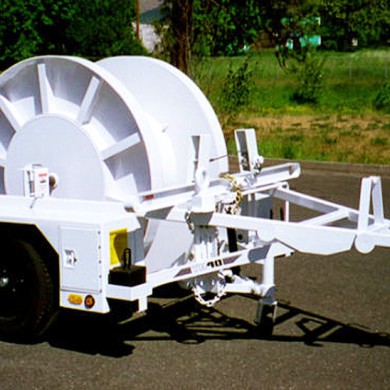 TH40 POLE & REEL DOLLY
The Hogg and Davis, Inc. Model TH40 means versatility. Fast becoming the industry standard workhorse, the TH40 combines the most sought-after features into a smooth operating, long-lasting, compact unit.
The key to this unit's popularity is hydraulics. The hydraulic mandrel lifts and idler wheel allow one man to load or unload reels without delaying other pieces of valuable equipment. Gone is the necessity of boom trucks standing by. Gone is the need for three or four men to wrestle heavy reels. The TH40 pays for itself in manpower savings alone. The TH40 is built to meet the requirements of any utility engaged in strand and cable transporting and stringing, or pole and material handling; designed for the most demanding.
.
See Full Details